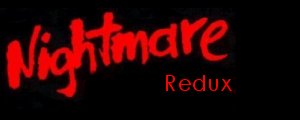 The Nightmare Redux Series
Click on the pictures below to read the scripts in the Nightmare Redux series, featuring members of the Nightmare on Elm Street Messageboard.
You may ask why they are on their side, and some of the numbers are odd. That's like asking why water is wet, why the sky is blue, why donkey balls hurt, and why ass cheese smells odd. Shut the fuck up and click the scripts already.
Oh yeah...PEMIS.
Body Count&nbsp&brvbar&nbspContact&nbsp&brvbar&nbspNightmare on Elm Street Messageboard&nbsp&brvbar&nbspY2Krueger: Returning 2004
Nightmare Redux and it's various sequels are &copy 2003-present by K2K. All persons within said scripts are carciatures and are in no way actual semblances of any persons, living or dead. These scripts are pure parody humor and in no way, shape, or form are meant to harm or slander any individual, living or dead.